*Let's get to the biggest, most exciting, newsest news of all first:
Information about J.K. Rowling's new non-Harry Potter book has FINALLY been released!!!
We already knew it would be a book for adults but now we've been given the title, a little information on the premise and the release date!
The title will be The Casual Vacancy and it'll be a mystery. Maybe even a murder mystery. The book is set to be released September 27th! Here's the actual link if you wanna check out all the info. And here's a little snippet to help you fangirl it up even more:
When Barry Fairweather dies unexpectedly in his early forties, the little town of Pagford is left in shock.
Pagford is, seemingly, an English idyll, with a cobbled market square and an ancient abbey, but what lies behind the pretty façade is a town at war.
Rich at war with poor, teenagers at war with their parents, wives at war with their husbands, teachers at war with their pupils...Pagford is not what it first seems.
And the empty seat left by Barry on the parish council soon becomes the catalyst for the biggest war the town has yet seen. Who will triumph in an election fraught with passion, duplicity and unexpected revelations?
Blackly comic, thought-provoking and constantly surprising,
The Casual Vacancy
is J.K. Rowling's first novel for adults.
The above from Little Brown's website.
*Aw Sookie Sookie now! True Blood season 4 is coming to DVD! Relive (or, uh, live for the first time if you're, like me, too broke to afford HBO) all the madness of crazy witch Marnie, puppy dog Eric, rapey ass were-panthers and the ever yumminess of Alcide! Season 4 will be out May 29th.
*The Mortal Instruments movie got a release date. The movie will be in theaters August 23rd, 2013.
*There's been a change in the lineup for the Beautiful Creatures movie. Jack O' Connell, who was previously tapped to play Ethan Wate, is being replaced "due to scheduling conflicts." An actor by the name of Alden Ehrenreich will be taking up the role.
* The movie rights to Lauren Oliver's book Before I Fall were swooped up a loooooong time ago but this just in: now the project has a director. It's been reported that Gina Prince-Blythwood (who directed The Secret Life Of Bees. Which was a really good movie.) is in negotiations to direct Lauren Oliver's debut novel/debut book into movie.
*Here's our first little looksie at AnnaSophia Robb as Lil' Carrie Bradshaw. What do y'all think? Is she Carrie enough? She does look semi-bag-lady-that's-been-struck-by-lightning. Which is so very Carrie! So this little project just might work. i personally haven't read the series the show is based on (The Carrie Diaries by Candace Bushnell) so i know shit-all about the concept other than it's Carrie before she moved to New York and when she was merely Carrie Bradshaw as opposed to Carrie Bradshaw. So if any of my blogger buddies out there wanna school me on the haps with this series, please do so in the comments section below.
While we're still on The Carrie Diaries subject, two more peeps have been added to the cast. Chloe Bridges will star as Carrie's nemesis, the incredibly stupidly named, Donna Ladonna. While Austin Butler will play the role of Sebastian Kydd, resident hottie and Carrie's crush.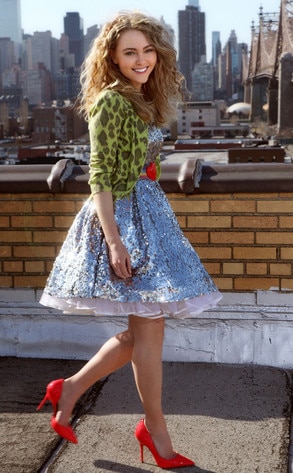 *And lastly, here's a new trailer for Snow White and the Huntsman. In this one Kristen Stewart actually speaks, which, mercifully, wasn't the case in the last trailer that i posted for this movie. She has a shitty Britty accent. Which is kind of odd since she's (allegedly) dating a Brit. She should be used to accidentally slipping into a British accent simply because she's (allegedly) boning a British dude. You know, like Madonna.
Anyhoo, K Stew aside, the movie also stars a scary ass Charlize Theron as the evil queen and the giant-headed Chris Hemsworth as the huntsman. It'll be at a theater near you starting June 1st.
Based on the trailer, it looks like it could have some potential. The graphics are pretty amazing. Although it does make me wonder, if they can make Charlize disintegrate into a murder of crows couldn't they do something about Kristen Stewart's perma-constipated face? It seems like that would be an easier challenge of the two. :)
That's all the news i've got for you. Now it's your turn to tell me what you think.
How excited are you for brand spankin' new Rowling? Who do you think should play Sam in Before I Fall? Are you gonna check out The Carrie Diaries or just stick to Sex And The City reruns? Does Chris Hemsworth's abnormally large head befuddle you?
Tell me all about it in the comments section.